THE TYPHOON
The Typhoon is a multi orbital spinning ride where riders stand in slots along the wall of a spinning basket, each basket seats 8 riders and there are 2 baskets totaling 16 riders per cycle. The two baskets spin on another support underneath them that also spins and this creates not only a spinning experience but also a side to side combined with a tilting motion. This is a classic ride and very popular especially with teens and younger college aged adults.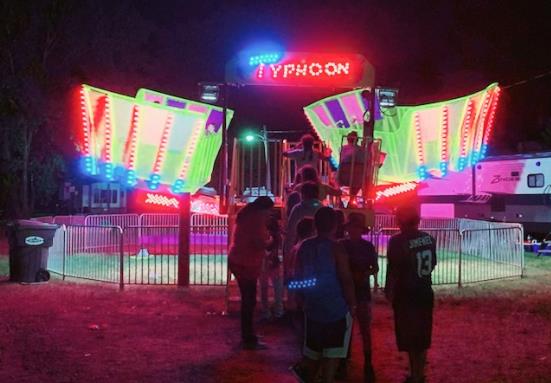 The ride is originally called the "SCAT" and is fully illuminated with L.E.D. lights that change color and flash patterns. Big round wheel provides amusement ride rental throughout the United States and serves a very large geographical area including International rentals. In addition to the Typhoon, we offer many other items including Ferris Wheel Rental and Carnival Game Trailer rental.
We are a Family owned and operated business, we own the rides, maintain and set them up so that allows us to offer a very high level of quality control and safety with all of our rentals. Many clients prefer dealing with a reputable company who stands out from the rest and that is exactly what we offer.
Looking for some excitement to add to your next event?? Perhaps some screams of enjoyment?? Try out the TYPHOON amusement ride!