Places We Have Traveled
A Ferris Wheel at the White House
Big Round Wheel provided the Ferris wheel for the annual U.S. Congressional picnic, The seats were branded with the Presidential seal and the lights were changed to yellow and white, the White House holds this annual event at summer solstice.


---
New York, New York (Governors Island)
We loaded the ferris wheel in a Ferry and transported it to Governors Island, New York for a two day festival. The views from the ferris wheel included the Manhattan skyline and the Statue of Liberty.

Savannah, Georgia (Savannah River, Hutchinson Island)
Ferris Wheel, Carousel and Chair-O-Plane swings were set up for the Festival of Lights at the Westin Hotel, Savannah GA.

Grand Rapids, Michigan (DeVos Convention Center)
We set up the Ferris wheel inside the convention center for an annual meeting, The client wanted something large to fill up the area with 85 foot high ceilings, The ferris wheel fit with over 30 ft. to spare.

Cincinnati, Ohio. (Mason Ohio)
Ferris Wheel at a bicentennial celebration, set up next to the stage of REO Speedwagon.

Urbana, Illinois
The University of Illinois rented the Ferris Wheel and Game trailer for a fundraising kick off, They chose to add their school logo to the ferris wheel and the event attracted a considerable amount of media coverage.

Cleveland Mississippi (The Granny Museum)
Taylor Swift experience grand opening, Ferris wheel was set up, seat branding, and a lighting change to feature blue and white lights on the wheel for the sponsor, AT&T and the Taylor Swift Now channel.

Winchester, Virginia (Private Residence)
A sweet 16 Birthday party featuring the Ferris Wheel and Ballistic Ride set up in a back yard in the mountains of Virginia.

Birmingham, Alabama (Faith Chapel)
A family Day with 2 Rides. A great visit to Birmingham.

Nashville,Tennessee ( The Barbra Mandrell Mansion)
Ferris Wheel and Game trailer at the Kid Rock fish fry and featured in his music video.

Thomasville Georgia. (Downtown)
A Victorian christmas, Our Carousel was set up in Downtown Thomasville for a Traditional Christmas celebration.

Richmond Virginia. ( Richmond International Raceway)
The Ferris wheel was set up on Turn 3 for a featured area for Gwaltney Foods which is the Sponsor for Richard Petty's race team. Richard Petty sat in seat #3 and autographed the inside of the seat.

Oak Hill, West Virginia (St. Peter and Paul Catholic Church)
A ferris wheel at their family event.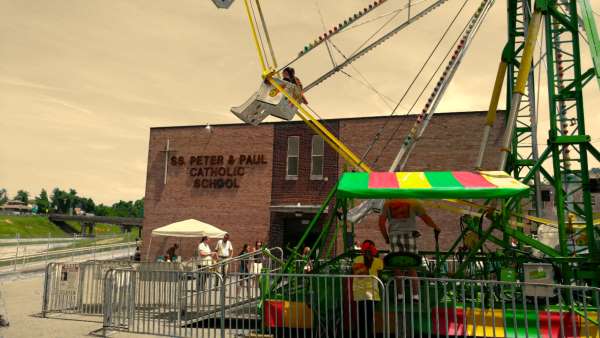 Statesboro Georgia (Georgia Southern University)
Rides and Games for a baseball tournament located near Savannah Georgia.

Chattahoochie Hills,Georgia (Serenbe Playhouse)
On the outskirts of Atlanta Georgia, Serenbe Playhouse recreated the Rodgers and Hammerstein play "Carousel" where they Built our Carousel into the stage with the ferris wheel as the backdrop. This was an amazing production by Brian Clowdus where the rides were a part of the play and during intermission, the rides were opened so guests could ride.