Carnival Games You Say!!??
Everyone loves carnival games, especially the nostalgic kinds that are fun to play and can generate some winners. Many people wonder if the games are rigged or fixed in some way to completely eliminate winners and to turn the games into money making gimmicks with little or no possibility of winning. The answer (with us) is No, all of our games are "fair game" there are no catches,buttons,or gadgets that keep players from winning our games. There are some secrets to making winning easier but ultimately,all of the games can be won by anyone with ordinary skills. Renting a game trailer is a great way to bring fun into the background of your event, Kids love to play because its fun and everyone wants to win a prize. The carnival games bring people back to a memorable past where they were walking through a carnival midway with cotton candy and perhaps felt a dare to play a game, sometimes an unsuccessful shot builds a little determination, lets try it again, as the crowd gathers "can he do it?" and at last.......... A Winner!!! its not always easy to bring this kind of nostalgic excitement everywhere, but At Big Round Wheel, it is what we specialize in! We bring the old time feel of a carnival to your event, with bells and buzzers, flashing lights and nothing but the Classics! Call today to find out how easy it is to rent a Carnival Game Trailer and bring this kind of excitement to your event.

Call us Today to discuss renting a Carnival Game Trailer at your upcoming event.


This game trailer features 4 of the most classic carnival games that are accented with the nostalgic feel of an old style carnival. The game trailer is rented all inclusive with attendants,tickets, prizes, lights,bells,signage,fencing and everything needed to have a full scale carnival attraction at your event.

- The Shooting Gallery


Features the classic "Red Ryder" cork guns where the player must shoot a cup off the shelf to win a prize (skill level Medium)
- The Milk Cans


One of the oldest carnival games where you gently throw a softball into an opening of a old style dairy milk jug, One ball in wins a prize! (skill level Medium to difficult)
- Fat Cats
Another Classic carnival favorite dating back to the 1800's Two racks of knock down dolls await the player to knock a set number of "Fat Cats" down with baseball sized balls. Winner can select their prize. This is a very exciting game for all ages and always draws a crowd with excitement and cheering. (skill level Medium)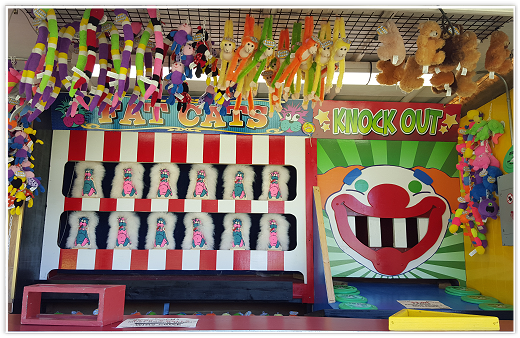 Knock Down Clown
A fun game for all ages but always attracts small children as well with the colorful Clown background and a Ringing bell that draws attention to the Winner! Player starts with 4 baseball sized balls and can knock out all 4 of the clowns teeth! Winner gets a prize. (skill level Easy)


How do we rent this?
We have a variety of ways to rent the Game Trailer, However because prizes are dispensed to winners, at private events we typically rent the trailer with a set number of Single game tickets which are distributed by the party host to their guests at their own discretion.( we even provide ticket aprons) This works extremely well and is a great way of giving the players a fun game environment and a chance to win fun quality prizes to take home. Additional tickets can be purchased at any time during the event either by the Event coordinator to distribute, or by the guests that wish to play additional games past their ticket allowance. (* we will never sell tickets or games to your guests without permission from the event coordinator)
At a paying or Ticketed event, at our discretion we will sometimes charge a reduced rental fee and collect the balance through game fees from players. This method is used when there is a moderate crowd but possibly not enough to justify the cost of bringing out a fully staffed game trailer with prizes but the Event coordinator wishes to have another fun feature to add to the event.
These are the most common rental methods, we can discuss other options to suit your needs as well.
This Game Trailer pairs well with our Hi-Striker "test your strength" Game