Basketball "Hoop Shot" Game Trailer
When you're looking for a "familiar favorite" in the carnival game world, our Basketball trailer is definitely a sure winner!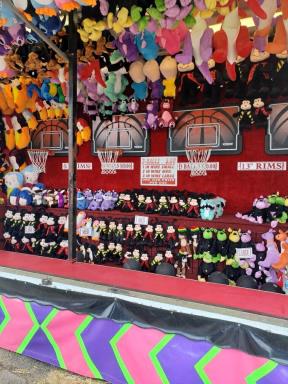 The popularity of this game usually attracts the younger teenage crowd and will get some rivalry going when it comes to competition.
This game trailer is 100% carnival and fair grade manufactured with high ceiling space to provide ample space for hanging prizes, adequate lighting, flashing carnival style lights, signage, protection from the weather and sunlight under the large canopy. Game trailers offer the best game experience for the player as well as the grand appearance for the look of the event. Most tent or table games do not compare to traditional Game trailers.
Dimensions:
8 ft x 24 ft (closed up)
18 ft x 24 ft (canopy open)
Game Trailers can be added to most Amusement ride rentals and are normally Not rented alone.
Big Round Wheel Amusements offers these items as rentals to enhance an Amusement ride rental but can not reserve a game trailer as a stand alone item due to the logistical challenges of bringing one item out and our schedule of needing to provide our amusement rides to other locations.
The TRIPLE PLAY rental option
We can offer a group of 3 Game trailers to certain areas (subject to availability and transport costs) These types of rentals usually meet our minimum order size and can be rented without amusement rides accompanying the rental.
Keep in mind that each game trailer will need to be pulled by a separate vehicle and driver and also requires our Staffing as well as crew accommodations during the setup, travel and operation of the event and our rates reflect these costs.
Prizes are not included in our rentals and should be purchased if desired. We offer a very large selection of quality prizes and can provide images and pricing upon request.
For private and corporate events, it is a good idea to use tickets, tokens or some other type of a metering instrument in order to regulate how many games a guest can play. If the client is offering free play with prizes otherwise there may be no prizes left or not enough to cover the duration of the event. These policies can be determined by the client and we will be sure to instruct our staff to follow these game play rules.